There is a metaphorical journey available which can lead you on the symbolic twists and turns of life's path guiding you ever onward to your final destination. There is only one entrance which also serves as the only exit. You walk in and ponder the winding road ahead as you allow the Spirit to reveal what it is that you are meant to feast on during that meditational pilgrimage. This journey is part of a Labyrinth walking spiritual practice.
Labyrinth in Chartres, France
For many, the word Labyrinth conjures up some uncomfortable childhood memories of David Bowie (rest his soul) and giant puppets. For others, there is a familiarity or even
experience in walking a labyrinth.
I am leading a Labyrinth walking small group on Sundays during Lent. This hosting church has the privilege of housing an exact replica of the medieval labyrinth from Chartres, France right next to their community center. Our small group is walking intentionally letting each step ground us to the present moment, to the Earth, and to Creation while allowing each breath to pull us deeper into the presence of the Divine. Each week we try a different spiritual practice while we walk the Labyrinth.
Last week, one of our intentional walkers recognized a metaphor in the Labyrinth that has alluded me all this time. She said that it struck her that when you walk into the Labyrinth you walk straight towards the center. You can see it clearly, but right before you can enter that sacred space, you are led down another path and leads you along the full length of the trail before you are able to walk into the center for the first time.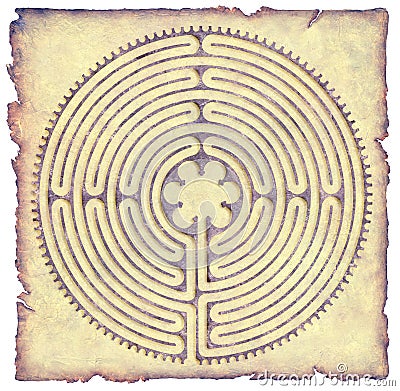 Isn't this how a life of Faith works? The Spirit gives you a vision, a glimpse of your mission, your call, your goal, the place that you are headed. You can see it, you can see the steps it will take to attain that goal or the miracles beginning to come to life along the way. However, you have to walk the full length of the path before you can enjoy the life and space that is waiting for you in the Center.
How many times have I had a vision from the Divine and wanted to leap over the barriers of time and experience that were necessary to get me there? How many times have the twists and turns of the path distracted me from the memory of the vision that ushered me onto this road in the first place?
We are all given notions of our purpose and we are all ushered onto the path that will guide us to Center. Our daily call must be to remain open to the lessons of the path and remember that we will reach our destination in time... the right time. It is the moment at hand that will provide for us today.
If you live in Charlotte, NC and are interested in exploring the wonderful Labyrinths available in our city. Check out this link for more information on all the Labyrinth walks in town: Labyrinths